If you're like most digital agencies, 2023 was not a cup of tea, to say the least. As you're looking towards 2024 amid a competitive landscape that is fiercer than ever before, with prospect's standards higher than ever, and perhaps even margins on the verge of disappearing unless you make some tough decisions, consider what it would mean for your creative agency if you were to focus in on a specific industry vertical.
Does this sound familiar?
The other day I was chatting with the director of an advertising and marketing agency that has been serving their local community for 40 years. They became an established agency well before the internet became a boon for advertisers. When they saw internet marketing would hit an exponential stride a decade ago, they began to grow that "side of the house." For years they did well offering web based marketing services for existing customers and people they knew.
But then that web based side of the house got stuck as the competitive landscape broadened and digital marketing solutions became more and more commoditized. The barrier to entry for marketing service providers shrank at a rapid pace since expensive equipment and space to operate such equipment could be largely avoided.
What WAS this agency's differentiator back in the day could now be considered the very thing holding them back in the current marketplace. That's why the director of this agency and I were talking about how to define some niche options and then evaluate, narrow down, and select a niche to pursue in order to achieve their revenue goals on the web side of their house.
Below are a selection of the questions I encouraged this director to answer for herself and her agency:
How Do You Narrow Down a Niche Market?
Start with a bit of self-reflection:
What do you want to be known for? What do you want your agency to be known for?
Think about what topics you enjoy learning about; what industry does it correlate to?
Think about who you enjoy working with; what kinds of work do these people usually engage in?
Think about where your most successful skills have led to high yield results. Which marketing cases are you most proud of?
Around what kinds of people would you feel most comfortable networking. (In other words, where would the discomfort be the most tolerable.)
While your list will likely come to mind over many days or weeks as you make space to think while driving, doing the dishes, working out, or engaging in your hobbies, I recommend you take a moment right now to set a 30 minute "meeting with yourself" 5-10 days out to clearly define your list. Shoot for having 7-12 options.
For example, "businesses that need a new logo" is too broad, whereas "breweries looking to rebrand and expand their number of locations" is a defined niche.
Another example, "people who need video editing for their YouTube videos" is way too broad, whereas "financial advisors looking to increase leads through YouTube videos" is a defined niche.
Here's a deeper discussion on considerations for agency niching:
Evaluating Your Options
Now, for each option, answer these questions for yourself and for your team:
Am I/ are we passionate about the direction the stakeholders in this industry are going?
Would I/we enjoy hanging out with the buyer persona?
What do I NOT know about the day to day challenges of this buyer persona?
Do I/we desire to learn more about them and become their trusted advisors?
Is it an inconvenience or does it come naturally to stay up to date about their industry and the market pressures affecting them?
What new problems/challenges would crop up for this buyer persona by our implementations of solution? Can we help them overcome those objections and challenges too?
For example, the advertising agency I was talking to the other day has been in business since before the widespread adoption of the internet and well before the use of the internet for advertising purposes. Now-a-days their tactics have changed and 3 years from now, their tactics will be different too.
Refining Your Options
After evaluating each option with you and your team in mind, you will likely see a couple of option that look much more appealing to invest in for the long haul.
Your next step is to refine your list by the viability of each option to be profitable and sustainable. Do some research and gather secondary market intelligence that is relevant.
Think about barriers to entry; what is the competitive landscape for this niche? Is it oversaturated? Do you see any partnership opportunities? Do you need any gaps that need filled?
Think about what you have to give; for this industry specifically, is your primary service offering being sought out by early adopters, the majority, or laggards?
Think about what it would take for you to become credible in this industry; do you have proof of concept (results/case studies) for your offering in this niche? Do you have connections and a sources for referrals among the ideal customer profiles in this niche?
Think about how you would solve for the customer; what objections do these buyer personas have to your marketing recommendations?
Think about long term sustainability; if your current prices were double what they are today, would the typical buyer persona in this option be willing to spend? How frequently would customers in this niche become a repeat customer?
Choosing Your Niche
Equipped with your market intelligence and personal understanding of your team's inclinations, it's now time to make a choice. You will be looking at a list of options where some choices may be better than others. At the end of the day, you won't know everything you're going to want to know to feel fully comfortable niching down. It's up to you do be decisive, make a choice, carve out the path, and walk it day by day.
Plan for it to take 12 to 24 months of dedicated niching efforts for you to feel recognized in your new skin, talked about by others in the industry, and ensure your cash flows can sustain the time it takes for your organize to pivot and become specialized authorities in your chosen niche.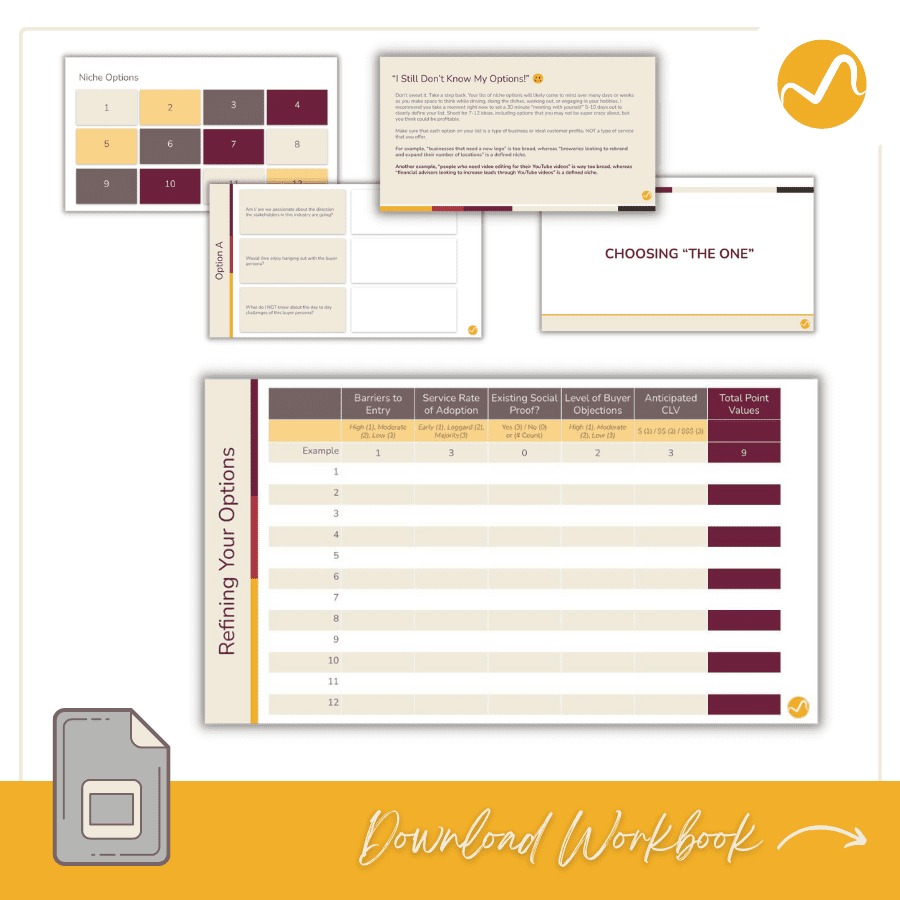 Niche Picking Workbook [How to Niche Down]
Simply submit the form below to access a Google Slides Deck that will allow you to brainstorm, refine options, and assess the viability of niche options. The riches ARE in the niches, as they say.
FAQs About Niching
How do I know if my niche is too broad?
Can your value statement be tacked beside any other agency's brand and still be an accurate representation of that other agency? If so, your niche is too broad.
Are you defining your niche based on tactics (aka, we are the best graphic design firm) or based on the type of customer profile that you solve problems for (aka, we help restaurants establish and maintain their local brand presence)? If it's tactics driven (graphic design for anyone) rather than solutions driven (establish and maintain presence for restaurants), then your niche is too broad.
Are the recommendations you provide generic to a wide array of scenarios such that the depth isn't really there? If so, your niche is too broad.
Do you and your teams intimately understand the day to day problems your customers are facing OUTSIDE of anything that has to do with the solutions you provide? If not, your niche is too broad.
Can your customers clearly convey the value you add to their business? Do they understand why others in their network should work with you too? If not, your niche is too broad.
Can a niche be too specific?
Certainly, if you're trying to serve only customers that, for example, are in the underwater basket weaving industry and make 7 figures or more per year, you'll likely run into some troubles scaling your agency because your niche is too specific within a category that is too limited. With some basic understanding of the fundamental market size of your target industry, though, you can avoid this conundrum. In general, it's far more probably that you can niche down even further to maximize your earnings potential.
How do you choose a profitable niche?
You can have a big heart for helping people and still put food on the table. Profits aren't evil and if you are broke, you won't be the best version of your agency and you won't be able to help the people you want to serve because you will have nothing left to spare to try new things that will help them.
This means that certain niches will not be good choices because they will not be profitable and everyone will lose. In order for everyone to win, you need to gather market intelligence and evaluate your options will a level head over emotions, as much as humanly possible. Refer to the section above on Refining Your Options for some questions to research and consider about the profitability of a niche you are considering.
How do you target your niche?
The internet has made the marketplace a vast expanse of options. When it comes to positioning your marketing and creative solutions, why should a business choose you over someone on Fiverr or UpWork from across the world? Why should a business choose you to custom build something that they can DIY? And how do you reduce the level of perceived risk they have in paying you what you are worth?
Becoming a specialized expert within a specific niche is a primary way of overcoming these big objections regardless of whether you are a web dev firm, videography studio, social media management agency, or full service digital marketing agency.
Building a successful marketing agency takes grit, a focus on your value, and sometimes a *loving* kick in the pants.
Needing an ally as you achieve your long-term goals?
I'd be happy to help.