You need to know how to market your agency to get found and get clients in the door. You need to become (and stay) profitable. You need better options for how to do more with less.
You need to change your job description from "Chaos Coordinator" to "Successful Agency Leader."
Let's get down to business and determine how to turn your agency into a blessing, not a burden. We'll start by building a repeatable, scalable lead generation system based on a business development strategy proven to work specifically for marketing agencies.
Build Your Repeatable, Scalable, Revenue Generation System
Marketing agencies are often hindered by poor cash flows that stem from a skimpy sales pipeline and unsubstantial focus on capturing revenue opportunities from existing clients.
The Momentum Framework is how we'll solve for your lead generation problem while creating exponential value over time as you market your agency to new clientele and increase revenues from existing clients.
The phases of the Momentum Framework reflect most agencies' desired future state, and to get there, we need to do some building.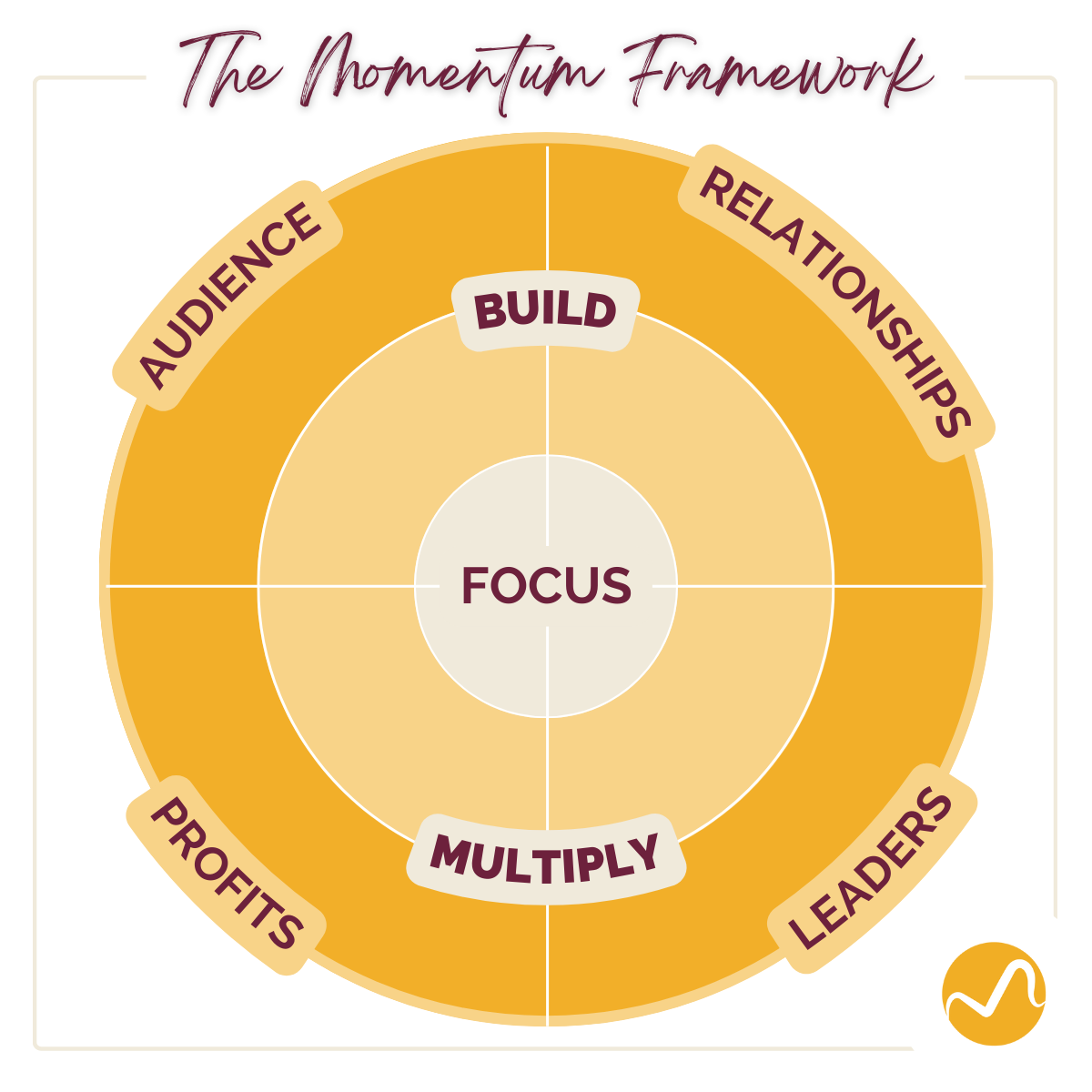 Always looking towards the bullseye, we'll work through the Momentum Framework with your agency's specific situation and target market in mind to:
Refine Your Focus
Build, then Multiply Your Audience
Build, then Multiply Your Relationships
Build, then Multiply Your Profit
Build, then Multiply Your Leaders
Get Momentum
Get Help Solving the "Cobbler Whose Kids Have No Shoes" Riddle
Gain An Outside Point of View
Get a look from the outside in for fresh ideas, truthful and honest feedback, and a thoughtful perspective for what to do next to get found, get leads, and build an agency name that will last.
You and I should be talking if...
You Need
Fresh Eyes
It's often others who can see us more clearly than we see ourselves.
Details →
You Need Fresh Eyes
It's often those outside of our organization that can identify more than we can see when we're in the thick of it day in and day out.
Business owner-operators and their leaderships teams are regularly too close, too biased, and too married to current initiatives to see out-of-the-box options or spot ways in which competitors are getting the upper hand.
With a high concern for creating the win-win-win scenario for business, employee, and client, to get Momentum for your business is to recognize you need a good hard look through some non-rose tinted glasses.
You Need Out of Feast or Famine Mode
Projects seem to come in waves and then dry up, and your agency is suffering for it.
Details →
You Need Out of Feast or Famine Mode
During times of plenty, it feels as though this client will be your big break.
No matter that the next big gig isn't lined up yet. It will come. It will. You hope. But then, it doesn't.
Your team is benched....and unsettled....morale is down. You're not sleeping. You're pitching for clients that aren't a good fit. Surely, this isn't how successful agencies are operating?
You need someone looking out for you, connecting you to relevant opportunities, and supporting you as you craft a consistent sales pipeline. It's time to have enough consistently.
You Need to
Be Sought After
You lose more proposals than you win, even when you're not charging enough as it is.
Details →
You Need to Be Sought After
There's more to winning a proposal than the options given on the page.
What are your superpowers? Is your agency tactic-centric or customer-centric? How's turnover? Are you perceived as a strategic partner or are you perceived as commoditized doers?
These are just some of the questions we'll address to inform a positioning strategy that will establish your agency and your team as genuine experts.
Having contributed to multiple agencies in technician, supporting, client-facing, leadership, business operations, and agency marketing roles, I can't help but look at the bigger picture, identify opportunities and setbacks, and then get into the weeds to help pave a better path and clear away the roadblocks.
Get Found. Get Clients. Get Momentum.
Get Help Generating Sales Opportunities
Stop neglecting your own agency business development and revenue operations. Invest in yourself, your team, and your business.
Business Development & Marketing Strategy Consulting
It's about time you built a business development system that will last, rooted in the winning strategies and tactics that ensured long-term agency growth and market success for other agencies too.
Doing Nothing Is *NOT* An Option
There's always a reason NOT to make a change and to stay within the stream of the status quo. What you need to determine for yourself is if you're willing to be the same as the majority of other agencies, or if you're ready to be truly different, as you claim to be.
I won't just sell you ideas; we'll journey together through your challenges and opportunities, but ultimately you have to build your momentum.
The status quo is the enemy to your agency growth. I'm here to help you find market fit, position your agency's superpowers, and showcase your team as recognized experts through various marketing and business development tactics.
I'm here to encourage you when you feel stuck and keep you moving forward towards your own goals (sometimes with a loving kick in the pants).
I'm here to help you build consistency, strategies, mindsets, and systems that you and your team are bought into.
When you do, you and your agency will reap the rewards of the compounding benefits for as long as you and your team maintain your momentum.
The principles for building a lead generating marketing and bizdev system for your agency are straightforward.
It's implementing those principles that's just so dang difficult!
Well, today's the day to start getting momentum.
Schedule
Your Meeting
It only takes 27 seconds.
Details →
1. Schedule Your Meeting
Book some time for a virtual coffee chat. ☕️
We may want to talk about our gardens or roller coasters if you're into those kinds of things, or perhaps riff on more "existential" topics. Those are fun too.
Or we can strictly talk business. You can tell me what's going on and what's in your way of getting your agency where you want it to be.
Implement
Quick Wins
Start with the low hanging fruit.
Details →
2. Implement Quick Wins
Once we've agreed on terms to bring me in as your Marketing Strategy and Systems Consultant, it's time to roll up our sleeves and get to work marketing your agency where it's at.
I'll help you implement quick wins first.
Then, work will begin on building the repeatable marketing campaigns, business development processes, and revenue operations systems that will support your agency for years to come.
Build Momentum
Build BizDev & RevOps systems, designed to support your agency for years to come.
Details →
3. Build Momentum
The bulk of our engagement will center around building out the marketing strategy and the marketing operations systems.
The outcome will be a functional set of marketing and biz dev efforts - with responsibilities delegated across your team and qualified vendors - that will continue rolling smoothly month over month and year over year.
The best part? Marketing and sales won't all fall onto you anymore AND your agency will continue getting momentum. 👏
Build the Lead Generation Systems You've Been Neglecting
(Your future self will thank you!)
Have other questions? Ask below: