One of the stories that has stuck with me for years is of a professional pianist, who—upon being told by an audience member after a performance that they wished they were as good as the exhibiting pianist—replied, "No, you don't. If you did, you would spend 8 hours per day rehearsing, drilling, and training to be a pianist." Not the most warm encounter with an audience member, but the pianist brings up a lasting principle.
The same rings true across all accomplishments in life that we wish to attain. You don't arrive. You journey; you show up in the little things; you are consistent and honor the day to day. You don't take shortcuts out of fear of arriving too late. You are diligent.
Wait, isn't this post about ways to get new business in the short term? Indeed. But, it's this mindset you build for achieving the long term outcome that will inform your short term outputs and short term revenue streams.
How to Get Clients for Digital Marketing, Right Now
One of the biggest challenges is finding new business when you feel as though you've already tapped out your existing network. You need more people who have the problem you solve to trust you.
Following close behind is the challenges that occur when your sources for referrals slow down or dry up completely. You'd done the work, you'd put in the hours to build strategic business partnerships, but the well seems to be drying up.
Now, what are some ways to find digital marketing clients to sign and start work on within the next 3 months?
1. Emphasize Value Add Projects with Existing Clients
2. Ask Existing Clients If They Know Anyone Who Could Use Your Help. Then, Offer a Referral Kickback
3. Launch a New Offering, Resource, or Event with Existing Strategic Agency Partnerships
4. Initiate Nurturing Campaigns Off of Downloadable Content to Existing Downloaders
5. Dedicate Time to Connect with POCs in your Niche on LinkedIn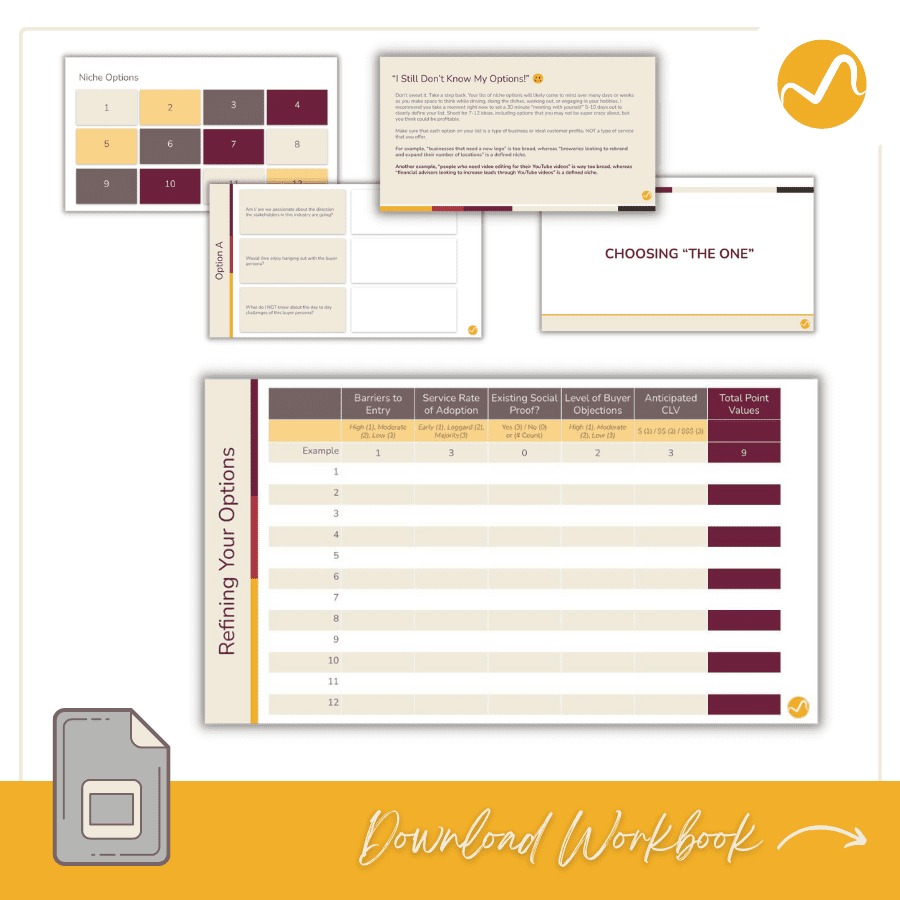 Niche Picking Workbook [How to Niche Down]
Simply submit the form below to access a Google Slides Deck that will allow you to brainstorm, refine options, and assess the viability of niche options. The riches ARE in the niches, as they say.
6. Attend Relevant Events and Re-Affirm Existing Connections and Make New Ones
7. Drum up Coffee Chats with Members of Niche Associations and Groups You Are a Part Of
8. Do a Favor
9. Consider Offering Agency Subcontracting (Look at Job Posting Sites for Open Positions)
Well. Get After It.
All of the above activities are shorter term tactics to generate new business for your marketing agency. Here are 11 long term tactics to generate new digital marketing clients.
Building a successful marketing agency takes grit, a focus on your value, and sometimes a *loving* kick in the pants.
Needing an ally as you achieve your long-term goals?
I'd be happy to help.