When this agency was trying to grow in 2019, and kept closing new deals, but couldn't seem to grow, they looked deeper. This agency was already focused on serving a niche industry and had a content marketing strategy working to convert new leads and close new customers. They found that client retention was just 49% for the agency and they knew they didn't have a marketing & sales problem; they had an operations problem.
This agency saw the need to focus on client retention and hired a leader from within to spearhead the charge towards improving agency operations and increasing client retention rates. Top of mind would be defining and implementing standardized client management processes to ensure value was delivered month over month and getting a handle on retainer alignment to protect cash flows.
The focus for improvement was to standardize the most effective client management tactics within their service mix and agency structure so that the agency could scale in size and impact.
Results
From 2019 to 2021, their revenue growth rate

doubled.

🤘
They were able to blow past $1,000,000 in annual revenue in 2020, for the first time hitting 7-figures. 🚀
In 2019, they had no minimum retainer size and could not be as selective in the client they took on. In 2020, their minimum retainer size was $2,500/mo and in 2021 they upped that minimum to $3,000/mo. 👏
In 2019, their client retention rate was only 49%. By 2020 it was up to 80% (industry benchmark) and in 2021 it increased further still to 88% to be above industry average. 🎉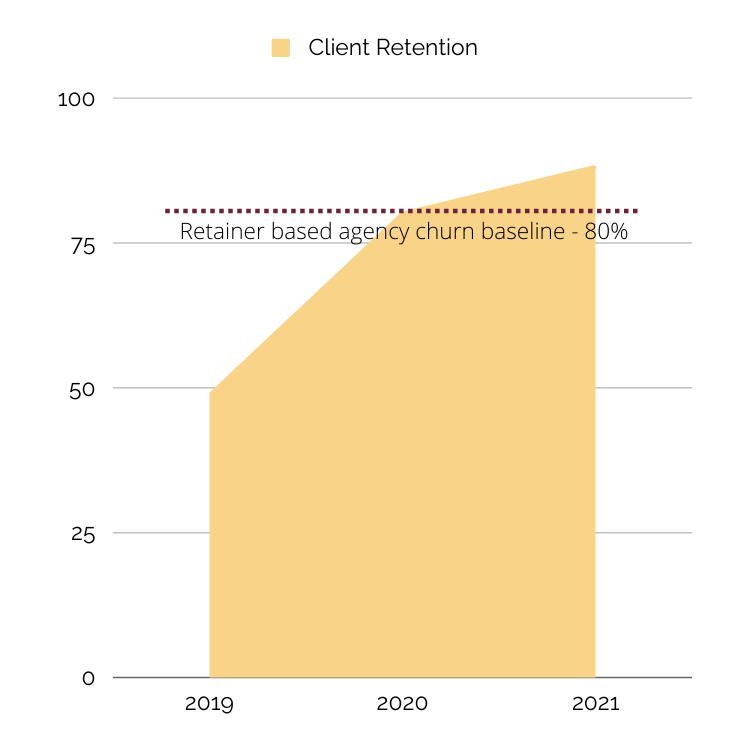 Here's a deeper look into just the first step this agency implemented in 2020 to get the client retention results they saw in 2021.
Step 1: Retainer Alignment
Overall, implementing proper retainer alignment for this agency required
For this agency, those retainer alignment activities included:
Switching to a more user friendly time tracking tool that 100% of team members would use (rather than less than half).
Clearly communicating employee expectations of time tracking as a component of their roles to be evaluated during managerial check-ins.
Analyzing the pod specific and agency wide hours spent on specific tasks related to client work versus agency administrative and marketing items.
Standardizing the expectations each employee had and work towards alignment where outliers existed. This involved creating a guideline for how much time to spend on certain activities for clients.
Training client facing roles how to respond to out of scope requests from clients without damaging the client relationship.
Drafting and sending out price increase emails where current agreement were out of date, out of alignment, and in some cases costing the agency to deliver on.
Beta testing occurred in one pod first for proof of concept. Then the time tracking, job costing, and retainer alignment initiative was rolled out across all client management pods. You can expect to start leveraging insights from time tracking efforts in 6 to 9 months to align revenues with costs and improve your profit margins. To really hit a stride, leave 12 to 18 months dedicated to implementing and monitoring the time tracking effort.
How Long Did It Take?
From start to finish, this agency's strategic revenue alignment effort took a solid 18 months to run the Beta test, implement the initiative teamwide, collect enough data, assess the implications, evaluate pricing adjustments, and communicate changes to existing clients.
Ultimately, when this agency focused on time tracking to inform retainer alignment in step with job costing to inform current and new price increases, they were paving the way for more progress.
"Just Keep Swimming" – Dori
These efforts led to the subsequent steps that propelled them towards higher customer retention rates, including,
The first iteration of project management standardization (then the second, then the third iterations)
The first iteration of SOPs and role descriptions (then further iterations)
A robust new employee onboarding program (then the next iteration)
The first iteration of agency wide internal training programs (then ongoing iterations)
Each was one more stepping stone that paved the path for this agency to achieve their dream of profit sharing to be realized in 2021, after about 24 months of intentional, focused progress. Now they can focus on improving employee retention and they can afford to experiment with new offerings because they have resources to spare.
What a testament to the power of consistently laying the right foundation to achieve a bigger, broader goal for the good of your entire team! 👏👏👏
Building a successful marketing agency takes grit, a focus on your value, and sometimes a *loving* kick in the pants.
Needing an ally as you achieve your long-term goals?
I'd be happy to help.