Digital marketing specialists play an important role in presenting and promoting your agency through a variety of online platforms.
For this position, you want a professional who is creative, efficient, knowledgeable about digital tools, and capable of bringing awareness to your company in effective and innovative ways.
With that in mind, hiring and training digital marketing specialists is no small challenge. By taking a thoughtful approach and not rushing the process, you increase the potential of adding a team member who will be a critical part of your agency's future success.
What Does a Digital Marketing Specialist Do?
Depending on the size of your agency and your organizational structure, you may have one person focused on digital marketing or an entire team. Because your digital marketing specialists are tasked with executing the specific marketing tactics prescribed in a given client's marketing strategy, they need to be efficient, effective, and have a problem solving mindset.
Additionally, they should be curious enough to stay abreast of current marketing trends and identify news ways to leverage tools and tactics for the benefit of clients under their care.
Because digital marketing specialists work closely with other team members, they need to either bring solid soft skills to the job with them or have the support and resources available to them develop these soft skills.
Tips for Hiring a Digital Marketing Specialist
Here are a few tips for bringing on a digital marketing specialist—from recruiting and hiring personnel to successfully training them to take on additional roles and responsibilities for clients and within your agency:
1. Determine Minimum Qualifications vs. Trained Skills
First, determine what are the most important traits in your new hire. Some companies get too caught up on recruiting someone with an impressive resume that they overlook other desirable traits.
Ultimately, you want to hire a digital marketing specialist who will fit into your workplace culture and jive with the rest of the team.
While certain digital marketing skills are essential, many things also can be trained—especially since the new hire will have to become acquainted with your agency's specific software, processes and systems anyway. Focus on recruiting someone with the right mindset and personality for your team who also can bring something unique and untrainable to the table.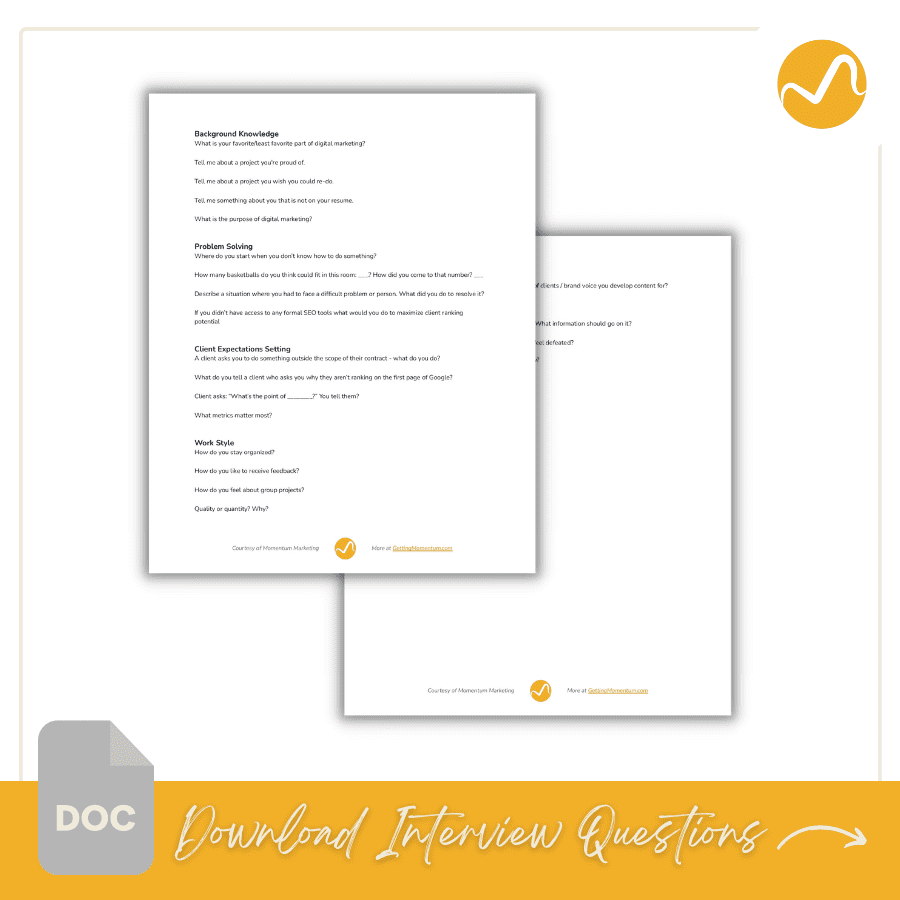 Digital Marketing Agency Interview Questions
Simply submit the form below to access a Google Doc with ideas for Interview Questions that you can use to gauge the character, qualifications, and culture fit of applicants for new roles at your digital marketing agency. Download the interview questions below.
2. Write an Effective Job Description and Job Listing
A good throw can prevent a missed catch.
To reach top-tier candidates, take the time to write an appealing job description. You have no excuse to not apply the same finesse of marketing messaging to your job listing. 
Leverage the second person perspective by framing the position and your company in terms that "you" –the applicant– will resonate with. The job listing should include
information about what makes your company unique and your core values
how this position fits into your team, the day-to-day expectations, and the key deliverables
what technical and soft skills are applicable
Make sure the language and format of the job description are chosen with your ideal candidate in mind. Will they be drawn to a very formal description or would they be enticed by something more down-to-earth and friendly?
An effective recruitment process also depends on where you list the position. Utilize a variety of listing venues, from online platforms like Indeed, ZipRecruiter, and LinkedIn to other social media and newspapers, magazine and trade publications.
3. Provide a Competitive Compensation Package
A top-notch digital marketer will know the value of their niche expertise. To secure and retain their talent, offer an enticing compensation package. What you offer should be competitive with other agencies beyond your region, but similar in size. 
Additional compensation should be provided for talent that is already familiar with the industry you service and should reflect the unique skills and talents the candidate would bring to the table out of the gate as well as over time.
Other benefits to consider—beyond PTO, family leave, health insurance, and 401(k) matching—could include performance bonuses, technology stipends, longevity leave (like sabbaticals), a flexible work environment, a gym membership, financial wellness programs, and professional development opportunities/stipends.
4. Leveraging LinkedIn and Existing Employees
LinkedIn is another great resource for listing an open position. You can create online job posts for free, or you can sign up for LinkedIn Recruiter, a hiring platform that lets you connect with and manage candidates. They also offer recruitment marketing tools that, based on the popularity and growing presence of LinkedIn, may be a worthwhile investment.
Additionally, leverage the networks of your existing employees. Ask them to share the job description on social media or with people they know from their college days or past workplaces.
5. Adopt a "Hire Slow, Fire Fast" Mentality
Hiring is not a fun process. Beyond that, it consumes time and effort that you and other administrators at your agency could devote to other business. Since you're usually hiring out of need to have capacity to onboard new clients, it's tempting to justify bringing on the first candidate that seems good enough. After all, you can develop them into what they need to become.
However, you can't rush the process, or you may find yourself doing it more frequently because you're not bringing on the right people.
Take your time.
You can extend the deadline for applications or even take down the posting and try again in a few weeks if your first pool of applicants isn't strong enough. Further, sometimes you have multiple candidates that might do fine in interviews and look good on paper, but you're not convinced they are the right match for your current needs. It's okay to pass on "good" candidates too.
Do group interviews with your top picks that include not only supervisors but also any employees who will work closely with the new digital marketing specialist. Come up with creative ways to see how the candidates flow within your agency's work environment.
Employee Onboarding and Training Tips for The First 90 Days of a New Digital Marketing Specialist
1. Communicate an Expected Growth Path
When you hire a new digital marketing specialist, you're investing into what they can eventually bring to the table—not necessarily what they'll do from the start. It's important to identify a realistic growth path for the first year or two and then match their goals beyond year two in order to retain the talent you've invested hundreds of thousands of sunk costs into. 
. Often, you will start by providing them learning opportunities in various tactics of digital marketing. Their training tasks could be tasks from other pods that they have oversight on completing. Usually, you can ramp them up into delivering for their own book of clients in 3 to 6 months.
Once they are efficiently in command of any essential status quo responsibilities, you can expect them to start contributing new ideas or suggesting how to improve your digital marketing. Regardless, it's important you communicate this projected growth path with the new hire so you have shared expectations.
2. Make Onboarding a Breeze for New and Existing Employees Alike
Hiring new team members to scale your agency can often feel like a catch 22. You need to hire to scale and even offload work from currently overloaded digital marketing specialists, but in order to do this, your team will have more duties on their hands for 3 to 6 months.
Some of the best ways to set new digital marketing specialists up for success will be to invest adequately in setting your existing team members up for success.
Thoroughly communicate your intentions to hire before you post the job listing
Make clear the start date of the new team member with as much time in advance
Clarify if this new team member will be taking on an work for existing clients long term, or just in the short term during training
Create a standardized 90 day training program that just needs the gaps filled with certain types of tasks
Create a centralized location for existing team members to manage workflow so that client deliverables the new hire works on are easy to oversee
Give existing team members a forum for reporting the genuine progress and acumen of the new hire (Remember, Hire Slow. Fire Fast.)
3. Allow Space to Learn from Mistakes
We've all been new hires at one time or another, and we know it takes time to get acclimated and perform at our best level while also learning the ropes. The first 90 days that a new digital marketing specialist is on the team doesn't have to be chaotic; you can design an intentional training system instead.
Accepting that there will be a natural learning curve will set up your agency and your new hire for long-term success. Give them time to get their feet under them and provide extra support with project management and mentorship from various roles at the agency. In best case scenarios, you will have a team member who is responsible for hiring and training; while they may not do all the training (and often they probably shouldn't) they can be the point person to coordinate and oversee the learning path, schedule, and assignments given and reviewed. 
Understand that mistakes will happen and use them as learning opportunities. Employees who are onboarded correctly and given a chance to grow are more likely to stay with your agency. 
4. Leverage One-to-Ones Frequently
When you hire someone new, it's tempting to want to be available to them at all times of the day while they are learning. It's also tempting to say they can reach out anytime they have an issue and leave the ball in their court.
I recommend setting scheduled check-in meetings weekly for the first 30 days and then bi-weekly for 60 days. You can structure these check-ins similar to one-on-one meetings. Be intentional to spend adequate time prepping for these meetings so that you come in with follow-up questions and talking points.
Watch for the new team members to come in with talking points as well, as a sign that they are personally as engaged in their own growth and development as you are.
You want to prioritize this time so that,
You can assess the amount of time it is taking the new hire to complete tasks compared to agency benchmarks.
You can provide feedback collected from across the team.
You can outline areas of success and areas for improvement.
You can answer lingering questions about HR and administrative functions of the business.
You can be firm and direct about any behavior that is not acceptable at your agency as well as celebrate specific instances when the new team member has embodied your core values.
You can ask what feedback they have of the onboarding process so that you can make iterative improvements to it.
Of importance, you can also develop an environment of trust to share mistakes and areas they feel they need more training.
Building Leaders at Your Agency
The best possible outcome from hiring an entry level or mid-level digital marketing specialist will be that they can develop their professional skills, contribute to the greater team, and in proper time lead the team via an expanded function or a bon-a-fide leadership role.
Building a successful marketing agency takes grit, a focus on your value, and sometimes a *loving* kick in the pants.
Needing an ally as you achieve your long-term goals?
I'd be happy to help.