Last week I had a chat with Jason J. Zotara, founder of Ten26 Media, because he has an interesting perspective on positioning your agency that may help you. (Full disclosure: Ten26 Media is not a client).
His agency was born out of a scenario similar to many; he built his digital marketing muscles as an employee of a firm delivering on marketing strategies and campaigns for corporate-level clients. By 2012, he was ready for a change. He carried his wisdom with him into a whole new role of leading his very own agency – Ten26 Media.
(Pro Tip: If you struggle remembering your spouse's birthday, you may consider naming your agency in suit. Seems like a fitting memory technique to me!)
At first, Ten26 Media positioned itself as a full service digital marketing agency. They offered services across the entire gambit including SEO, PPC, email marketing, website development, and social media marketing. Over time, though, Jason came to realize that their sweet spot was digital advertising, also known as PPC or SEM services.
Advantages of Niching Into A Technical Specialty
Not only were PPC solutions one of their more profitable offerings, but the team thoroughly enjoyed the work. They preferred PPC to implementing organic SEO tactics and also preferred it to managing day-to-day social media efforts. It allowed team members to be both creative and analytical while delivering high value results quickly for clients. Win-win-win. Their team is able to stay at the forefront of technology and digital marketing solutions still, even if they are not delivering on every possible tactic that they would recommend clients deploy in conjunction with PPC efforts.
In Jason's words, "Because we started as a full-service agency, we understand how to integrate digital ads into the overall marketing strategy. For example, ensuring that the messaging on our ads aligns with their website, social media, email marketing, etc. Digital ads are amazing, but they are still only one marketing component."
This decision wasn't just good for clients. It helped Jason and his team reduce fixed costs and variable project-based costs internally in effort to improve their profit margin. It also helped preserve the sanity and job satisfaction levels of his client-facing team members because they are not the go to for every tiny client request that typically bogs down full service digital marketing teams. Avoiding scope creep is a huge benefit to offering services within a specific technical specialty!
This method plays to Jason's strengths as a salesman because he is able to add value quickly to conversations with prospects and is able to scale their book of business through partner agency referrals. Ten26 Media can avoid the trappings of the "land-and-expand" approach that many full service digital marketing agencies use as their excuse for not choosing a specialty. Further, it has enabled Jason to establish strategic partnerships with agencies who specialize elsewhere and provide a steady stream of referrals for PPC projects.
While they are not building authority in any formal industries, they still have a sales qualification process designed to determine if the purpose of the prospective client's organization is one that the Ten26 Media team can stand behind. Jason describes his criteria in this way:
"Not all clients are "purpose-driven," so we won't turn them away necessarily. However, we definitely want to work with more socially and environmentally conscious brands. People, Planet, Profits."
Jason's approach validates that it's appropriate for a culture fit evaluation of the prospect during the discovery process so that you can make a wise decision of whether or not to provide services. This also provides increased benefit to their company culture.
Presumably, team member burnout is lower because they can feel good about the work they are doing and are not expected to keep up with every change in the world of digital marketing.
Organizing their operations into pod-like teams gives Jason insight into when and by how much they can scale at any given point, as well as directing clarity into what roles need to be hired and when.
They have a LOT of good things going for them because they decided they didn't have to be all things for all people. 👏
Since Jason and his team took the step to niche down to a particular service offering, they have been able to dedicate their efforts and energy into delivering the very best results for clients in that one area, putting them a cut above the rest. This is awesome and still helps them position their value to prospects!
There is nothing wrong with choosing not to niche into a particular industry. Sometimes it does not pay off (think travel and leisure niched agencies in 2020 and 2021). No business endeavor is completely risk free, though. If you choose to pursue a similar technical niching approach, there are several risks that they still face and that may mirror your situation.
Ways to Keep Growing
Further, they have opportunities to keep growing should they choose to focus on other avenues of revenue.
They could productize their services in a way that can be applied by internal marketing teams looking to DIY their PPC efforts and then nurture them into clients when the ROI from DIY is still not meeting client goals.
They could also productize their strategies to pad their profit margins without having to grow the team.
They can stay abreast of changes within the PPC industry much more nimbly and adapt their services and client delivery methodology to match pace more quickly.
Risks That Remain
Clients definitely see the value in this technical expertise. However, Jason and I agree that the downside to niching into a technical specialty (i.e. PPC), rather than an industry segment or hyper-targeted buyer persona, is that it is unlikely that you will be able to charge more by specializing in PPC. This is largely due to the reality that clients can only spend so much on one platform and PPC is only one sliver of the pie in a client's cohesive marketing strategy. This means clients have lower willingness to pay ceilings.
Some risks are completely outside of their control, for example:
Not owning the base platform that they sell their services on top of.
The whims of advertising platforms and subsequent algorithms.
Advancements in machine learning are shrinking the size of their viable market by creating increased perception of DIY implementation suitability.
Changes to policies and regulations for third-party cookies impacting ROI of PPC campaigns.
Relying on referral sources to drive new business.
Other risks can be monitored and mitigated internally, such as the following:
Clients cut advertising spending first when recessions hit.
Clients have lower willingness to pay ceilings and smaller budgets.
Keeping employees engaged and defining growth paths.
Keeping up with salary increases to prevent employee poaching risks.
Navigating fewer opportunities to up-sell and cross-sell offerings.
Preventing income erosion from existing clients as agency operating costs increase.
Application for Your Agency
In general, I do recommend that agencies define a specific industry niche to become an authority within, for these 23 reasons.
But picking one industry to really become an expert in is HARD. Really hard. I don't want you to get stuck in the land of status quo. So try out other ways to niche. The way Jason and his team have niched is one alternative.
Ask yourself and your team:
What marketing services that we deliver are most profitable?
What could we make even more profitable if everyone's time and attention were focused on optimizing that one offering?
How do clients describe what we do for them to other people?
How do referral sources describe what we do to other people?
Where is the most need?
What do we like to deliver the most?
What do we really not like to do?
What roles are necessary for each offering; how hard is it to hire, train, and retain those roles?
Will this likely be relevant 3 years from now?
Will this likely yield similar ROI for client's marketing spend 3 years from now?
Here's a process I recommend working through when you are deciding how to position your agency. Make yourself aware of opportunities and risks, then, make a decision. Your future self will thank you.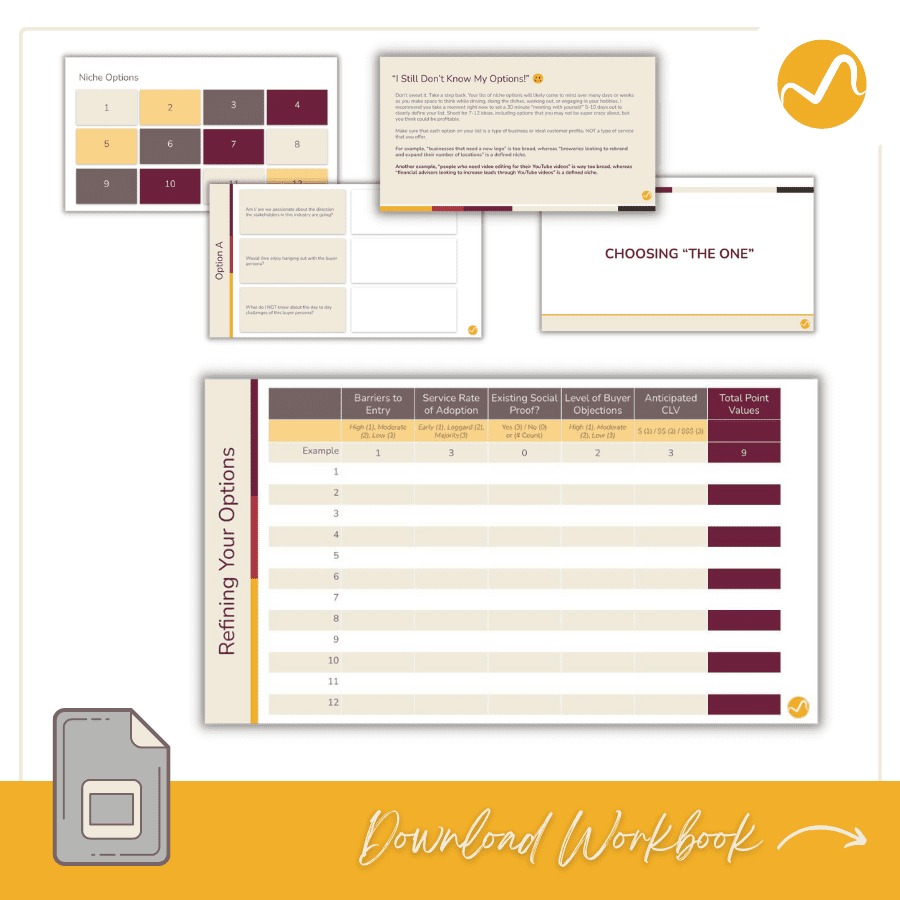 Niche Picking Workbook [How to Niche Down]
Simply submit the form below to access a Google Slides Deck that will allow you to brainstorm, refine options, and assess the viability of niche options. The riches ARE in the niches, as they say.