In one year, this market research firm had successfully adjusted their digital marketing approach in order to support their goal of increasing year over year revenues by 15% annually. Looking ahead over the next 3 years, maintaining 15% YoY growth will allow them to double the size of their sales team by 2024.
This market research firm has been serving their niche industry for over 30 years and had become a well-respected voice for stakeholders at industry events. With a new President now leading the charge, who had recently been promoted from within the organization, it was time to start becoming a recognized force in digital settings as well.
These efforts would help combat the negative effects of The Great Resignation on B2B relationships that were the primary source of revenue opportunities for the firm. The efforts would also afford the President time to off load some of his selling responsibilities onto new sales reps who could focus on "farming" new projects from existing clients rather than "hunting" for new accounts.
We started working together in June of 2021 with their updated digital strategies kicking off in August of 2021, ultimately looking to increase the number of accounts under management while making the firm more approachable online.
Goals:
Achieve 15% year over year revenue growth and maintain that growth in ensuing years.
Bring in 10-20 new accounts per year (depending on project size).
Expand the firm's market share.
Maintain a 10-15% annual profit margin.
Generate enough qualified inbound leads to support an additional crew of 3-4 sales reps by 2024.
Increase client retention.
They were working with a digital marketing agency already, but were not seeing the level of results necessary and were having a hard time justifying the costs. They knew an emphasis on digital marketing was still necessary, but they needed a more strategic support structure behind their efforts, so they reached out to me.
A year into our collaboration, here are the high level impacts garnered for the first 6 months of 2022.
Results After One Year:
13 new customers (on track with YoY goal to bring in 10-20 new accounts per year)
Retention is ~75% (defined as a customer commissioning another project within 24 months)
11% Digital/Inbound SQL to Close Rate
1 more full time sales rep has been hired and another is in the process of being hired.
Visibility on LinkedIn is up by a large margin (678 unique visitors up from 56)
Search Engine Visibility up by 300%
Unique Page Views up over 200%
Have backlinks from 2.7x more referring domains
Ranking for 2.8x more keywords
Ranking in the top 20 results for 3.2x more keywords
Average visitor time on key conversion pages up 95%
Form conversion rate up ~20% (from 4% to 5.1%)
How?
Tactical Marketing Plan and SEO Blueprints
In order to achieve high impact results, I helped them structure the right people, at the right time, to deliver on the following:
New and Improved Blog Content

Improved Conversion Paths to Gated Resources
Implementing an Internal Linking Strategy

Creating a Consistent Pattern in their Email Marketing
Support making their their inconsistent Social Media efforts more fruitful.

LinkedIn Hashtag Strategy
Post Recommendations
Support Across Company and Personal Profiles of Sales Reps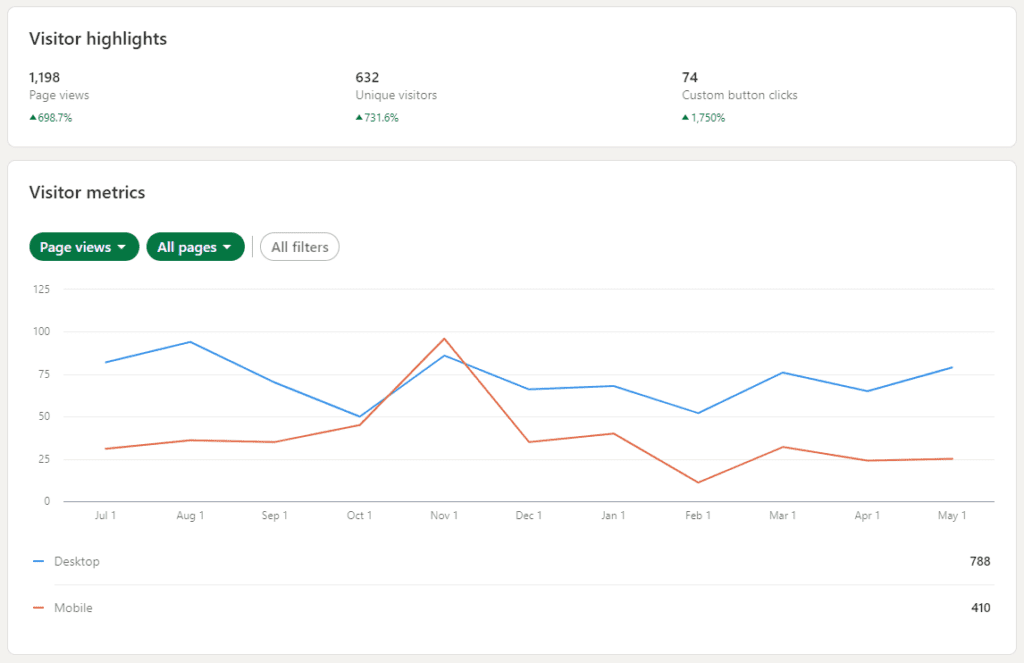 End of 2022 Update
The results documented above were achieved in the first year of working together. Now, 18 months in, a few updates can be added to this firm's success story: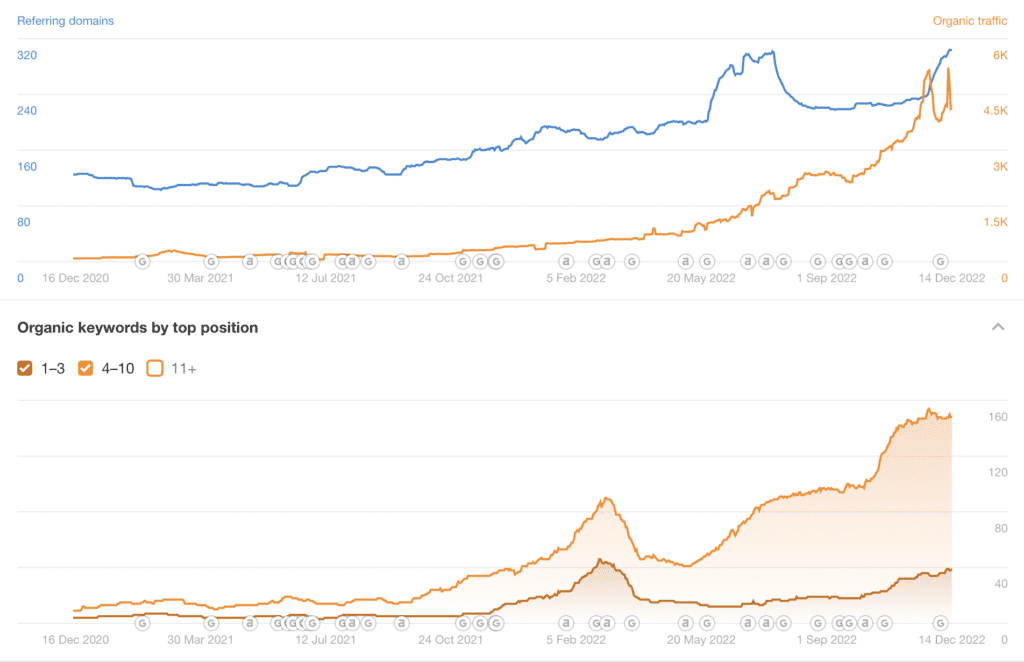 Results After 18 Months:
2022 Revenue Goal of $4.4M exceeded
# of keywords in the top 3 positions in search results has increased from 0 to 33
10x increase in # of keywords ranking top 20 (from 36 to 350)
4.5x increase in total # of keywords ranked for in the US (from 415 to 1,834)
2.5x increase in the # of referring domains pointing to client website with a backlink (from 147 to 407)
~6x increase in monthly website visits (from 946 to 5,727)
Building a successful marketing agency takes grit, a focus on your value, and sometimes a *loving* kick in the pants.
Needing an ally as you achieve your long-term goals?
I'd be happy to help.