This advertising and marketing agency has been serving their local community for 40 years. They became an established print and traditional marketing agency well before the internet became a boon for advertisers and made the pivot to also offer digital marketing services when they saw the market shift that direction. For years they did well offering web based marketing services for existing customers and people they knew.
But then that web based side of the house got stuck as the competitive landscape broadened and digital marketing solutions became more and more commoditized. The barrier to entry for marketing service providers shrank at a rapid pace since expensive equipment and space to operate such equipment could be largely avoided.
We started working together in November of 2019 with the express aim to support the growth on one side of their house, the web side.
Money Goal:
Increase web design and digital marketing revenues by 250% in 24 months.
Contentment Goal:
Manage ten digital marketing retainers averaging $3,000 monthly per retainer
Goal is not to grow to be a mega-agency, but to be the best and provide the best for their manageable sized book of business in order to maintain client relationships that have been proven to last decades.
They knew where they wanted to go, but they needed some help paving the path the get there, so they reached out to me. 18 months into our collaboration here are the revenue and visibility impacts garnered.
Bottom Line Results So Far:
Web income is up 78.3% from Q1 2021
Overall income up 14.8% from Q1 2021
Net operating income is up 23%
2 more full time employees have been added to the roster, bringing their agency count from 3 employees to 5.
*Qualified* Contact Form Submissions up by 400%
Search Engine Visibility up by 500%
Social media followings increased ~150%
In the running against top local competitors during prospect decision making
How?
The sign of a healthy business and resilient agency goes beyond the heights of search engine visibility. After building authority it's important to ensure the right positioning, prices, people, processes, and purposes are established.
Our monthly consulting calls covered topics such as
Finding a Niche
Positioning
Service Offering and Pricing
Networking and Relationship Building
Inbound Marketing Strategy and Implementation
Starting a [relevant] Podcast
Sales Enablement Pieces
SQL Management
Operations Management and Delegation
While this agency and I started working together before the formalization of the Momentum Roadmap that is now available, the premise of what they worked through and is very similar and involved the following:
New and Improved Blog Content (and connection to the resources necessary to get the content written externally).

~50 New Blogs
Fresh Case Studies
New Gated Resources
Improved internal linking strategy and conversion mapping
Purge and Redirect or Update and Optimize existing content to perform

Lead Conversion Campaigns written, designed, and mapped through existing content.
Revitalization of their Email Marketing
A plan to make their inconsistent Social Media efforts more fruitful.

LinkedIn Hashtag Strategy
Facebook Boosting Strategy
Post Recommendations
(these are the ten pages with the most # of keywords shown by the # of keywords the page ranks for over the last 24 months)
(these are the ten pages that have 1 or more keywords that rank in the top ten positions shown by the # of keywords the page ranks over the last 24 months)
Results:
*Qualified* Contact Form Submissions up by 400%

When we started collaborating in November of 2020, this agency was getting phone calls inquiring about their services here and there, but was not getting any qualified SQLs from their website.
As of April 2022, the average number of contact form submissions per month had increased to 4 SQLs per month with about a dozen non-qualified submissions reaching out each month and the phone ringing more and more.
In the same span of time, submissions on their gated MQL lead generation content 10X'd.

Search Engine Visibility up by 500%

Leveraging SEO backed content marketing, this agency has expanded topical visibility by 500% from ranking for a total of 315 keywords to ranking for 1,641 keywords in the United States.
These efforts have supported the positioning of their brand for high intent searches for their service offerings. 9 website pages ranking in the top 3 positions including their service pages for mailing services, printing services, graphic design services, website design services, website maintenance plans, and SEO services as well as key blogs that drive middle of the funnel lead conversions.

Social media followings increased ~150%

There's more to life than social media, but I will concede that it does still matter, so there's that.

Competitor Competishmer

Compared against 12 primary competitors, this agency had previously held the 9th slot for search engine visibility when we started working together at the end of 2020. Now, this agency has surpassed 6 of those 8 competitors that were outpacing them and are now sitting in the 3rd slot. The top two slots are held by two national agencies that are based in this local service area with innumerably more resources and stature at the local and national level.

Further, when conversing with Sales Qualified Leads, this agency asks who else the leads is considering and time and again is up against who we consider to be the top 3 agencies in their local market – this is a great litmus test to understand their market positioning.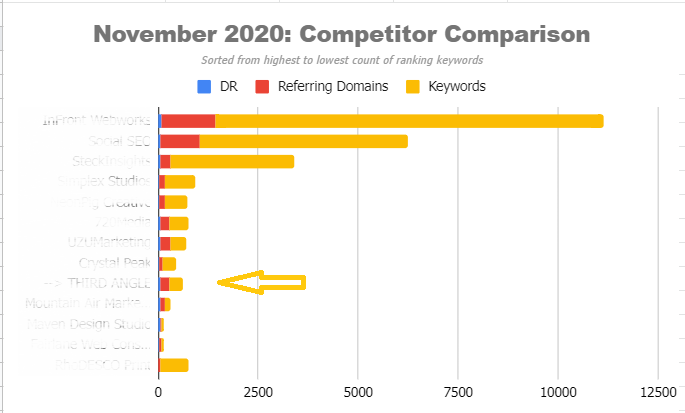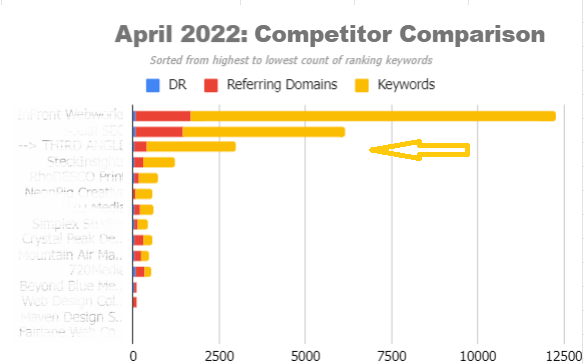 Building a successful marketing agency takes grit, a focus on your value, and sometimes a *loving* kick in the pants.
Needing an ally as you achieve your long-term goals?
I'd be happy to help.